22.02.2018

We are now available for you via Whatsapp
---
You got a message for us or want to ask a question? Since February 2018, you can easily do it via WhatsApp message.
And that's how it works:
• Save our telephone number +49 (0) 4472 94 00 90 as a contact in your smartphone
• Search us in your WhatsApp contacts
• Just send us your question or request as a chat message
• Look forward for quick feedback

We look forward to your news!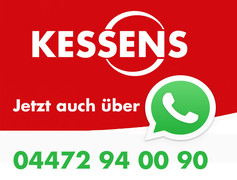 ---